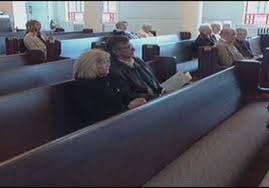 As you look out over a congregation gathered for Sunday worship have you ever asked yourself the question- where have all the people gone?
An equally important question for the leadership of these half-empty Christian Churches to ask is- Why have they left?
Some time ago I linked to a talk given by Fr. Ron Rolheiser called: Middle-Aged Catholics: Missing in Action?  I invite you to click on this link if you missed Fr. Ron's analysis of why ex-Roman Catholics constitute the second largest Christian denomination. He raises a number of  points that are sure to cause debate on all sides of the Catholic spectrum.
Fr. Robert Barron has weighed in on this subject  in advance of an upcoming article in America magazine.
Here is a summary of Fr. Barron's commentary which you can listen to in the video below.
I saw an advance copy of a survey by William J. Byron and Charles Zech, which appears  in the April 30th edition of "America" magazine. It was conducted at the request of David O'Connell, the bishop of Trenton, and its focus was very simple: it endeavored to discover why Catholics have left the church. No one denies that a rather substantive number of Catholics have taken their leave during the past 20 years, and Byron and Zech wanted to find out why.
Fr. Barron focuses on three causes of this depature that are under the direct control of every pastor and parish.
What struck me about the survey, however, was that many of the issues that led people to leave the church are indeed matters that can be addressed. Many of the respondents commented that they left because of "bad customer relations." One woman said that she felt "undervalued by the church" and found "no mentors." Many more said that their pastors were "arrogant, distant, aloof, and insensitive," and still others said that their experiences over the phone with parish staffers were distinctly negative.

A second major concern that can and should be addressed is that of bad preaching. Again and again, people said that they left the church because homilies were "boring, irrelevant, poorly prepared," or "delivered in an impenetrable accent."

A third eminently correctable problem is one that I will admit I had never thought about before reading this survey. Many of the respondents commented that, after they left the church, no one from the parish contacted them or reached out to them in any way.
Take a moment to listen to Fr. Barron go into more detail on Why Catholics leave the Church: