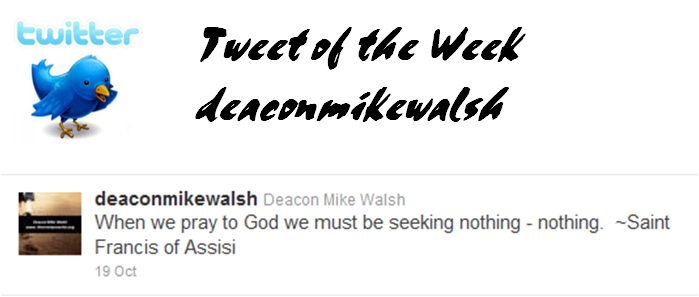 Prayer has been on my mind this week as we faced a number of struggles as a family battling through the "cure" for my wife's breast cancer. It seems to me to be a strange way to make a person well this chemo therapy, but we have put our trust in others and are moving through the pain and sickness with the promise of a return to normal life in the new year.
What does one pray for in a time like this? How do you keep your faith in a merciful God when the one you love is so sick and hurt?
I offer no quick and easy  answer to these questions because  I don't have one. I did, however, find that the Tweet of the Week,  a quote attributed to St. Francis , helped me to understand that prayer is not a bargaining tool. It is not about asking God for one thing and in return offering some service to please him.
I have decided to seek nothing- to trust – and in prayer allow myself to understand that we are not alone in this fight. We have family and friends and a loving God, who will care for us, even if things in this life do not go as we had planned or hoped.
I seek nothing in prayer- knowing that I have all I need in God's love.