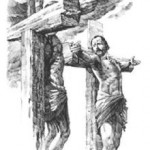 Looking for a new way to experience the Stations of the Cross in  preparation for  the Passion of our Lord?
Several years ago a man serving time in the Kingston Penitentiary wrote reflections on the Stations of the Cross from the view point of Dismas – The Good Thief.
Starting Today and continuing through to Easter Sunday we will explore the stations.
This is an opportunity to read and reflect on this journey, where Christ changed the life of a thief and promised him and each of us paradise.
Theme and Station
1 – Prayer:
Jesus in the Garden of Gethsemane
2 – Betrayal:
Jesus, Betrayed by Judas, is Arrested
3 – Judgment:
Jesus, Condemned by the Sanhedrin
4 – Abandonment:
Jesus is Denied by Peter
5 – Falsely Accused:
Jesus is Judged by Pilate
6 – Pain & Suffering:
Jesus is Scourged & Crowned with Thorns
7 – Hardship:
Jesus bears his Cross
8 – Accepting Help:
Jesus is Helped by Simon to Carry the Cross
9 – Kindness
: Jesus meets the Women of Jerusalem
10 – Forgiveness:
Jesus is Crucified
11- Hope:
Jesus Promises His Kingdom to the Good Thief
12 – Love:
Jesus speaks to his Mother and the Disciple
13 – Salvation:
Jesus Dies on the Cross
14 – I am Thankful:
Jesus is in the Tomb
Easter Sunday: The Homecoming
This version of the Stations was used by Pope John Paul II on Good Friday 1991. Click here for more information.
Please click here to Download a printable copy of The Way of the Cross with Dismas.