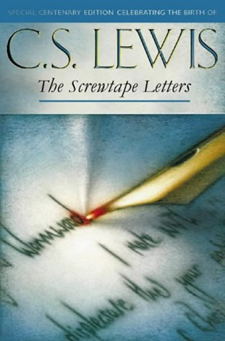 Where have all the demons gone? C.S. Lewis offers one perspective in his book The Screwtape Letters. It offers us a glimpse into an  intriguing series of letters between two of Satan's workers. Wikipedia tells us that the:
The Screwtape Letters is a satirical Christian apologetic novel written by C. S. Lewis, first published in book form in February 1942.The story takes the form of a series of letters from a senior demon Screwtape to his nephew Wormwood, a Junior Tempter. The uncle's mentorship pertains to the nephew's responsibility for securing the damnation of a British man known only as "the Patient".
Tom Butler-Bowdon offers the following summary  as part of  his book the 50 Spiritual Classics :
The book is quite a challenge to understand, because everything is morally in reverse. You have to remind yourself that the 'Enemy' referred to is God, and that the way of life advocated by Screwtape is the exact opposite of a good Christian life. For instance, Screwtape bemoans that that the Enemy has given human beings free will to choose the Good, and that God actually loves 'the human vermin'.

Each chapter deals with a different temptation such as a lack of neighborly love, smugness, lust, and identifying with non-believers because they are clever and witty. (Click here for the complete review.)
It would seem the demons are still with us- they are just harder to recognize.
If you have a few moments below is the Preface and Chapter 1 of the book read by the actor John Cleese.