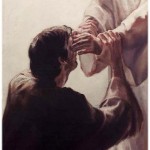 Blindness has been a part of my life for sometime as a person very close to me has had her sight impacted by a disease that may one day lead to complete darkness.
The story of Jesus touching the man born blind is one of deep significance and power. In my ministry to those touched by crime I get the chance to walk with men and women who at times live in a blackness that is just as real as the darkness of physical blindness.
John's gospel story is one of hope for all of us. The blind man is seen by those that surround him as a sinner and he is being punished for his wickedness. The ex-con is often judged by society in a similar manner. How he or she got to this place in their lives is viewed as irrelevant and the fact that they have been convicted means that they should be punished forever. Those with a criminal record NEED NOT APPLY!
At the end of the gospel story we see the man born blind, even after his cure by Christ, is cast out of the Synagogue and is alone. The man or woman returning from prison having paid their debt is often segregated to a basement apartment with no friends.
"Jesus heard that they had driven him out and when he found him he said, "Do you believe in the Son of Man?" …The man born blind said "Lord, I believe.'"
To be a disciple of Jesus we must look beyond the labels we place on others such as worthless, unworthy, sinner and see the person that Jesus sees.
Perhaps you are the one in the darkness – if so then follow the lead of the man in our Gospel story and have the courage to say -"Lord, I believe" and face the darkness with the assurance you are not alone.
Below is a teaching on this passage from Fr. Thomas Rosica, the CEO of Salt + Light TV. I will be sharing reflections from Fr. Rosica over the days ahead as we travel through Lent on the road to the passion, death and the resurrection.
Drop me a line and let me know what you think about the "Man born blind."