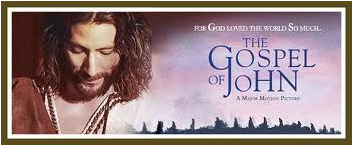 For the next three Sunday's of Lent we visit the Gospel story according to John.
The Church has a 3 year liturgical cycle and we are currently in Year A where the Gospel of Matthew is usually read on Sundays. There are a number of weeks where this is not the case and we have arrived at one of those departure points.
Over these coming weeks we will look at three of the great stories in the New Testament as told according to the followers of the disciple that Jesus loved- John. First we see Jesus visiting with the Woman at the Well, He then cures "the man born blind" and finally he raises his friend Lazarus from the dead.
Below is a clip from a little known but wonderful movie simply called The Gospel of John.
Wikipedia describes The Gospel of John as a 2003 film that is the story of Jesus' life as recounted by the Gospel of John. It is a motion picture that has been adapted for the screen on a word-for-word basis from the American Bible Society's Good News Bible. This three-hour epic feature film follows John's Gospel precisely, without additions to the story from other Gospels, nor omission of complex passages.
Here is the trailer and I highly recommend buying or renting a copy of this little gem of a Canadian (and British) film and set aside an evening to experience the entire Gospel of John. More on this as the week progresses.