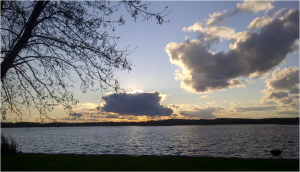 I have been preoccupied the last several months, and especially the last week, implementing one of our new life strategies – to simplify. For the past 11 years we have been cottage owners. It has been a memorable place where we would come together as a family and with friends to spend time together.
The other side of the cottage coin, and every vacation property owner knows this, is that it is time consuming and costly to keep two houses up and running. Therefore we made a decision that the time had come and we needed to move on.
The Good
There is something about setting your stuff free. When you sell a second house it means you have to seriously downsize. We had a garage sale in the rain that was great fun. We bartered with a few friends who took furniture for their daughter's new home in exchange for gardening services. We gave a lot away and then we discovered the local dump. What good clean fun it was to load up the van with junk and then throw it away- very freeing.
The Bad
Moving! While I enjoyed renting a U-Haul truck and fulfilling one of my dreams to be a truck driver, the actual act of moving furniture is best left to the younger generation.
I also realized that the drivers of the big transport trucks do not recognize U-Haul operators as part of the teamster fraternity. There was not a single one of them who returned my wave along the route- at least not a wave that included all 5 fingers!
The Sad
Leaving behind 11 years of memories is a double edge sword.
It means we were blessed to have had a place to create lasting memories of family and friends. Our much loved dog who died a few years ago loved to jump in the water after a tennis ball. The times by the fire- some which went too late. There was seeing the boat return from a fishing trip with my son at the helm. My daughter bundled up against the cold or in her special tent to protect her from the Mosquitoes. Taking long walks with my wife down the road to see if the Osprey had any new baby birds.
Change is never easy but it is necessary. One lesson I have learned is to hold onto your memories, try your best to forget the hurts and never get too attached to your stuff.
Confucius shared that "they must often change, who would be constant in happiness or wisdom."
To Westview Drive in Peterbourgh, Ontario- Thanks for the memories- and now it is onto new adventures.