It was the first day of the third year of our diaconate formation program. I walked in and noticed a new couple sitting in the back row. This turned out to be Bernie and Margaret. Bernie died this past week and we lost a man of true compassion.
Bernie was a bit older than the rest of the class. This was his second go around at studying for the diaconate. As it turned out Bernie had been living the life of a true deacon for some time and he would end up being ordained at the end of that year ahead of the rest of us in his class.
At his funeral, Deacon Alf Stong, offered a reflection on Bernie's life. Alf told of a palliative patient Bernie met while visiting the hospital. This man was named Greg. Bernie wanted to make sure he had the chance to see a priest before he died so he dropped around to his room to talk with him. Greg wanted nothing to do with the idea or with Bernie. He was in pain and full of anger. Bernie respected his wishes and left. But everyday Bernie would simply stop by the door to this dying man's room and say- "Hi Greg, it's Bernie." A few days past and then one day after stopping by to offer his usual simple greeting of – "Hi Greg, it's Bernie", the man asked Bernie to come into the room and talk. The man died a day or so later after having a priest visit him to celebrate the Sacrament of the Sick.
Henri Nouwen, in the new book A Spirituality of Caregiving tells us that:
"Caring as God's beloved children is making the effort to be present to, listen to, and affectionately embrace a weaker brother or sister who may have been frightened by harsh comments, examined by hostile hands, or ignored by deaf ears. We do this even when we do nothing to change the situation.This is the crux of our challenge….Caring is first of all about presence to a beloved brother and sister who at this moment feels powerless. Right here we accept in ourselves that we are not first of all someone who takes away pain but rather someone who is willing to share in it."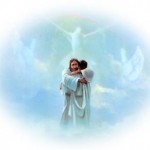 If this was the one and only thing they taught in the diaconate formation program it would be sufficient. One of the best students of this teaching I ever witnessed was Bernie. Upon his arrival into the open arms of Christ I am pretty confident our Lord had a greeting ready for Deacon Bernie that went something like – "Well done good and faithful servant- rest now and welcome home."
Thanks for being such a good teacher to the rest of us Bernie. We will miss you.