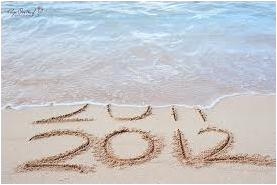 A look backwards at a year gone by can be a way to help plan the way forward.
The year of our Lord 2011 had many memorable moments and if you will indulge me this personal reflection here are a few:
watching family and friends experience their kids getting married;
seeing my daughter as the bridesmaid to her friend of 25 years and wondering- how did they grow up so fast;
new babies arriving and on the way;
some people we were close to left this world;
saying good bye to our lovely lakeside retreat;
but moving our son into his new home;
a trip to remember with said son to the south for golf and time shared;
getting my new "smarter than me" phone- wait that may not have been such a good move;
Christmas at Dismas- friends enjoying each others fellowship;
a Christmas busy with people helping others;
followed by a quiet Christmas day at home with family;
a New's Year Eve watching bad TV with the people you love- just like every other year.
The most significant remembrance is actually an ending and a new beginning. My absolute best friend in the world ended her cancer treatments. The very young, and I do mean young, doctors tell us that all looks as good as could be expected. This past Christmas and New Year's celebrations were small for us but full of hope.
I believe that is the one big lesson from 2011. A wise man recently told me that after a certain point in life you really only learn from your failures and suffering. I am not sure I buy that 100% but there is much  wisdom in these words. The struggles we face do help us to prioritize the things in life we value.
Next week's Tweets (Click on Follow Me to find me on Twitter)  are all about life and death.
One of my favorites has become- "How we spend our days is, of course, how we spend our lives.–Annie Dillard"