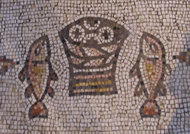 For my friends at St. Patrick's who are dropping by for a copy of this weekend's homily you may not have realized that I was preempted by Archbishop Thomas Collins pastoral message on the sexual abuse scandal that has gripped the worldwide media's attention.  I was notified of the change early in the week so I did not put the finishing touches on a homily for the 3rd Sunday of Easter.  This is either the good news or the bad news depending on your opinion of my homilies.
This week's gospel  reading is the post resurrection story of Jesus and the apostles on the beach from John's Gospel. Three times Jesus asks Peter, "Do you Love me?" and three times Peter replies "Yes Lord I love you."   Jesus then gives Peter one simple, yet difficult command – "Feed my sheep".
This reading could be the second act of the scene played out during the Passion of Jesus, where in the courtyard of the high priest's house Peter says three times, in increasingly loud voice, "I do not know the man!" Peter then sees Jesus and begins to weep, as he knows he has failed his friend in his time of need.
This weekend where the Archbishop offers a powerful letter on the failures of some within the Church, failures that have lead to terrible consequences as many innocent children have become victims at the hands of those they should have been able to trust, we are reminded how weak and sinful we can be as individuals and as a community.
As followers of Christ we are all called to love Jesus and then to go and  feed his sheep.  This means we must love those who have been the victims of sexual abuse and care for them, we must love the sinners who have committed these terrible crimes and care for them, as hard as that might be, and then we must move forward as a family and care for all who are in need.
"Peter do you love me? – Yes Lord you know I do – Then feed my sheep."  Simple but in no way an easy teaching especially during these difficult times.
To listen to his His Grace Archbishop Thomas Collins deliver this pastoral message please click on the box below:
New Feature:Visiting the Holy Land
I stumbled across a wonderful site on the information highway recently and I wanted to share it with you. BibleWalks.com features short postings and pictures of the places in the Holy Land where many of our stories about Jesus and the early disciples are believed to have taken place. From time to time we will link to them to help us visualize the the places we read about in the New Testament.
Today's story is thought by many to have taken place at a location that goes by several names. Click here to visit: Tabcha (in Hebrew:Ein Sheva) and/or Tabegha.
According to the tradition, Jesus performed here two miracles: