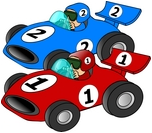 I talked in an earlier post about author Matthew Kelly who shares an important lesson in his book- The Seven Levels of Intimacy, that "Carefree timelessness and intimacy are best friends. Our relationships cannot thrive under the pressures of our noisy, busy, fast, modern lifestyles, but every relationship blossoms when it is nourished with a little carefree timelessness."
It is perhaps a bit ironic that I experienced carefree timelessness this weekend in the midst of a fast paced and noisy environment at the Toronto Indy car race. Three days wandering around the race track with my son was a true gift and is for me at least an example in my own life of what quality time is all about.
I realize that this type of an event is not for everyone, in fact my son and I concluded it is not for most people, but it proves the importance of finding a common passion with those you care about and then investing the time to make it a tradition.