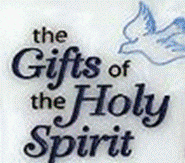 As I started to look into the "Gifts of the Holy Spirit" in preparation for my upcoming Pentecost homily, I was reminded that the lists of these gifts seem to differ from place to place. As I roamed the Internet, I found that there are either 7 or 9 or as many as 20 gifts of the Spirit listed depending on what you are studying.
Let us begin with a quick look at these lists:
1) The Catechism of the Catholic Church tells us that the gifts of the Holy Spirit are:
1831 The seven gifts of the Holy Spirit are wisdom, understanding, counsel, fortitude, knowledge, piety, and fear of the Lord. They belong in their fullness to Christ, Son of David.109 They complete and perfect the virtues of those who receive them. They make the faithful docile in readily obeying divine inspirations.
2) This prayer used during the Sacrament of Confirmation also highlights 7 gifts calls some of them by different names:
1299 In the Roman Rite the bishop extends his hands over the whole group of the confirmands. Since the time of the apostles this gesture has signified the gift of the Spirit. The bishop invokes the outpouring of the Spirit in these words:
All-powerful God, Father of our Lord Jesus Christ,
by water and the Holy Spirit
you freed your sons and daughters from sin
and gave them new life.
Send your Holy Spirit upon them
to be their helper and guide.
Give them the spirit of wisdom and understanding,
the spirit of right judgment and courage,
the spirit of knowledge and reverence.
Fill them with the spirit of wonder and awe in your presence.
We ask this through Christ our Lord.113
3) Some places seem to advise that there are 9 gifts which come from Paul's letter to the Corinthians :
1. The Word of Knowledge
2. The Word of Wisdom
3. The Gift of Prophecy
4. The Gift of Faith
5. The Gifts of Healings
6. The Working of Miracles
7. The Discerning of Spirits
8. Different Kinds of Tongues
9. The Interpretation of Tongues
4) Here is the biggest list coming in at 20:
The spiritual gifts listed below are found in three passages: Romans 12:6-8, 1 Corinthians 12:8-10; 28-30, and Ephesians 4:11
Administration
Knowledge Apostleship
Leadership Discernment
Mercy Evangelism
Miracles Exhortation
Pastor/Shepherd Faith
Prophecy Giving
Serving/Ministering Healing
Teaching Interpretation of Tongues
Tongues
Wisdom