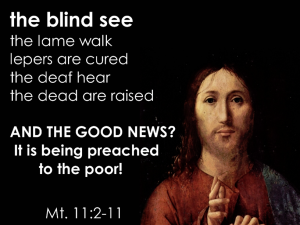 Click here for a printer friendly copy.
Let me start by making a confession. It is advent after all and a time of preparation, and I have been carrying this secret with me since childhood, and it is time to get it off my back.
Since grade school, I have never liked the character of John the Baptist.
There I have said it. I think this goes back to being a kid who was forced into watching all the religious movies of the 1960s. Two, in particular, come to mind- The Greatest Story Ever Told and the King of Kings.
My mother loved these types of films. I went with her to the movie theatre, mostly for the popcorn, but I remember to this day the character of John the Baptist.
He just seemed to be an angry guy. He was yelling and calling folk's names, like broods of vipers which I may not have fully understood, but I knew it did not sound good. Then I learned he ate locust and honey. My 10 year old mind wondered what was that about?
Who was this voice crying in the wilderness and what can we learn from him today?
Last week, we met John at his fiery best. This is the scene in all these movies I watched as a kid as John looks at the Scribes and Pharisees and calls them a brood of vipers. He likens them to snakes, the animal identified with the devil in the Garden of Eden.
Matthew in Chapter 3 of his gospel writes that John told the crowd the following:
I am baptizing you with water, for repentance, but the one who is coming after me is mightier than I. I am not worthy to carry his sandals. He will baptize you with the Holy Spirit and fire.
His winnowing fan is in his hand. He will clear his threshing floor and gather his wheat into his barn, but the chaff he will burn with unquenchable fire."
In January, we will gather again to complete the Christmas season by celebrating the Baptism of the Lord, and we will read that:
Jesus came from Galilee to John at the Jordan to be baptized by him.
John tried to prevent him, saying, "I need to be baptized by you, and yet you are coming to me?"
Eventually we arrive at today's gospel reading in Matthew Chapter 11, which begins with John in prison and instructing his followers to go to Jesus to ask him this question:
"Are you the one who is to come.or should we look for another?"
What has happened between Matthew Chapter 3 and Chapter 11 that may have caused John the Baptist to doubt the Jesus was the Messiah?
To find the answer to that question I encourage you to read Chapters 3-11 of Matthew's gospel, in one sitting if possible, and see if you can see why the Baptist might have had some doubts about this itinerant preacher, teacher and healer from Nazareth.
John as we see in Chapter 3 has his own view of what the Messiah will do when he arrives. The brood of vipers will be banished, and the wicked will burn in an unquenchable fire. In other words, John believes that things are going to change radically and a whole host of people are going to be put into their places.
 But what actually happens after the baptism of our Lord by John in the Jordon?
 First, rather than springing into action as John might have expected, Jesus goes into the desert for 40 days. Jesus shows us the importance of prayer and preparation.
 Then Christ calls his disciples. However, it seems that he gathers around him simple fishermen, and to John's likely dismay sinners like Matthew, who was one of the hated tax collectors.
 In chapters 3-11 of Matthew that follow the baptism and lead-up to the question, "are you the one or shall we expect another," what does Jesus actually do?
 Jesus himself summarizes all he has done in his ministry to this point in today's reading in answering John's question by telling the followers of the Baptist to:
 "Go and tell John what you hear and see: the blind regain their sight, the lame walk, lepers are cleansed, the deaf hear, the dead are raised, and the poor have the good news proclaimed to them. And blessed is the one who takes no offense at me."
 John the Baptist is called upon to change his long-held vision of who the anointed one, the Christ, was to be and more importantly what he was to accomplish while here on earth.
 On this third Sunday of Advent perhaps we are challenged in a similar manner.
 Christmas is certainly a time for family and for connecting with those closest to us. It is also a time to reflect on what changes we need to make as followers of the humble carpenter from Nazareth who was born to the virgin in the little town of Bethlehem.  
I suggest it is the simple things that Jesus takes the most delight in, and if we want to honour him; we will remember his wish for us to "Go in peace", and we will find ways to glorify the Lord by our lives.
We might glorify the Lord by asking for forgiveness for our sins; this would make John the Baptist happy, but we must also remember one of the core teachings of Jesus in Matthew where he tells us to forgive those who have trespassed against us.
No amount of church going, praying and singing can get us past this teaching that we are to forgive and even more challenging to love our enemies.
We glorify the Lord when we live with a compassion that is so expansive that it finds a way to stand in awe at what the poor have to carry rather than in judgement at how they carry it.
Getting involved with things like the Christmas Gift Card Program here at St. Patrick's is one such way to go in peace this Christmas.
You may not know the family or person you are helping. You may wonder if they deserve the help. You may judge that they are the authors of their own misfortune which in many cases is true.
The Baptist would have judged some  of them as unworthy, and that they will be separated from the wheat to burn in the unquenchable fire.
 Today's gospel reminds us that these types of judgements are not for us to make. Instead, we are called to pull up an extra chair at our Christmas feast and to share it with the stranger.
In the end, the way to celebrate Christmas may well be defined by how we proclaim the good news to the poor, and it is a proclamation that requires no words only love.