Let me start by wishing all of the Moms here at Mass today a very special and Happy Mother's Day.
I have had the opportunity lately to visit with several "new" mothers who have had their first child. These visits got me to thinking that parenthood in general, and motherhood especially, has evolved a great deal over the past few generations
One major evolution is the equipment. I have come to conclude that the primary role of the father these days is to serve as a "Sherpa" or assistant who carries all that is needed for this small human being to leave it home for a brief visit into the outside world.
Since it is Mother's day I hope you won't mind if I focus on that in my homily but in the interests of fairness these thoughts are as relevant for fathers as they are for mothers.
Today, we celebrate the Ascension of Our Lord. In the gospel we hear that the 11 apostles are with Jesus as he ascends to his Father in heaven. There is a good case to be made that Mary was present and if she wasn't she certainly was with them when they returned to the Upper Room.
The disciples have retreated back to the Upper Room after the Ascension where they will remain until the Holy Spirit descends on them and they finally find the courage to go out into the world.
As I thought about all the changes in the role of mothers over these past generations, a good argument can be made that the important things are the same as they have always been.
There is much to be learned from Mary, the Mother of Jesus even though she lived in a completely different time and place.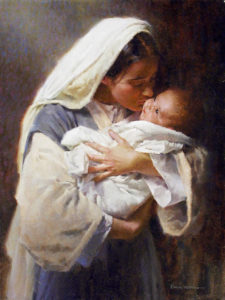 Who was Mary?
In truth we know very little about Mary from the scriptures. We know she lived in a small and insignificant town called Nazareth.  This 'town" was a collection of a few families and some common buildings like the synagogue.
Since Mary had yet to marry she would have been young, around 13-14 years of age. She was betrothed to Joseph who we also know little about.
This simple peasant girl from Nazareth has well over 500 titles and has a special place in the hearts of Catholics. The one name, however, she most likely treasures above all is that of Mother.
What can the life of the poor peasant girl from Nazareth who lived over 2,000 years ago teach us about the things that never change when it comes to motherhood?
Let us take a walk through her life.
We first meet young Mary at the Annunciation. She is minding her own business and looking forward to becoming Joseph's wife when the Angel Gabriel appears with a shocking message- She would bear a child conceived by the Holy Spirit.
She finds the courage to say yes to the call from God to have this child. For the first but not the last time we learn that she treasured and pondered these things in her heart.
It seems to me that all mother's treasure and ponder many things in their hearts as they wonder what the future holds for their children.
Upon hearing the words from Gabriel that her older cousin is also with child she immediately leaves to visit her. In other words she has accepted the word of Gabriel but like any good mother she is not afraid to check the story out.
We all know the story of the nativity but have you ever thought of how much strength it would have taken on Mary's part to go on this journey.
She gives birth in a stable and then the shepherds arrive out of nowhere with the news about the angels proclamation about this baby and for the second time she ponders these things in her heart.
Presentation in the Temple: Faithfulness
Perhaps a less known story is the presentation of Jesus. Joseph and Mary take their son to the temple to offer the required sacrifices. They were faithful Jews and they would bring Jesus up in their faith.
Mary is told things by an old man, Simeon, about the impact Jesus will have on the people of Israel and for the third time she ponders these words in her heart.
Believing that her son is in danger she immediately leaves with Joseph and they travel to Egypt. They become refugees. Mary puts aside her own desires to return home to Nazareth to be with her family to protect her infant son.
We don't really know much about the Holy family's time in Nazareth following the return from Egypt. We will meet them again in Luke as they travel to the festival in Jerusalem. Jesus is about 12 years old. If you remember the story Mary and Joseph start for home only to realize after sometime on the road that Jesus is not with other members of their family.
Can you imagine the worry in Mary's heart as they race back to Jerusalem and the relief when they find him in the temple.
Mary and Jesus are at the wedding feast in Cana and Mary encourages Jesus to help their hosts. Jesus accepts this gentle encouragement from his mother and his public ministry begins with the miracle of the water and the wine.
The Passion of our Lord- Sorrow & Hopefulness
Perhaps the most powerful experience we have with Mary as our guide is to join with her as she journey's with her Son through his passion.
Mary's heart must be breaking as she can do little to lessen his suffering other than to be present. Many mothers know this sense of helplessness and sorrow.
In the end, her presence was a great comfort and source of hopefulness for Jesus.
Foot of the Cross: Mary becomes our Mother
Jesus looks at the unnamed disciple whom He loved and said to him, said to us, this is your Mother.
In this moment, Jesus tells us that he is for all times our brother and Mary is our mother.
Back to the Upper Room following the Ascension. During this time of waiting for the Holy Spirit, which was a time of doubt and fear for the disciples, I can see Mary, our mother, comforting and reassuring them.
Mary had pondered many things in her heart over the years she was with Jesus.
In that Upper Room Mary was ready to be there for the apostles just as she is ready to be there for us in our times of great joy and desperate need.
On this day when we honour our mothers, let us remember the lessons of our spiritual mother.
Let us not be afraid to say; Hail Mary Full of Grace, help us to know the peace of your son Jesus Christ and be our guide as we strive to a life that truly glorifies his name.