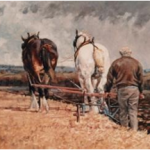 I got an e-mail the other day from a person wanting to know more about depression. I have some experiences with this topic. My mother lived with severe depression for many years.
It was as if she was constantly searching for answers about things that had happened many years before I was born. She was trapped in her memories to the point where the present was passing her by. She finally found a way out and started to plant new seeds and looking forward.
A friend of mine recommended this poem by Parker Palmer and it reminded me a great deal of my Mom's struggles- it is called Harrowing:
Harrowing
The plow has savaged this sweet field Misshapen clods of earth kicked up Rocks and twisted roots exposed to view Last year's growth demolished by the blade. I have plowed my life this way Turned over a whole history Looking for the roots of what went wrong Until my face is ravaged, furrowed, scared. Enough.  The job is done. Whatever's been uprooted, let it be Seedbed for the growing that's to come I plowed to unearth last year's reasons— The farmer plows to plant a greening season.
Parker J. Palmer is founder  of the Center for Courage and Renewal. A writer, speaker and activist, he serves as senior advisor to the Fetzer Institute and previously served as senior associate of the American Association of Higher Education. His seven books include A Hidden Wholeness, Let Your Life Speak, The Courage to Teach, The Active Life, To Know as We Are Known, The Company of Strangers and The Promise of Paradox.