While I was wandering around the Internet this week preparing for my homily, I stumbled across this article in The Catholic World Report with the above-noted title.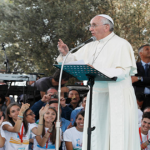 The author started this article with this observation about faith from Pope Francis at last summer's World Youth Day:
Papa Francisco is full of surprises….This This summer; he shook things up in Rio by insisting that faith is not a banana smoothie. "Please, do not put your faith in Jesus Christ in a blender. You can have orange smoothies, apple smoothies, banana smoothies, but please, do not gulp down a 'faith-shake.' Faith is a whole; you can't mix it up in a blender."
The rest of the article goes on to examine what Pope Francis says about faith. It is a long story but well worth the read.
Here is a small excerpt that for me at least summaries what faith might be:
Jesus is the Son of God who came into the world and gave his life to open the floodgates of love to everyone…By coming in our flesh and sharing our joys and pains, our victories and defeats, and enduring the cross, by living everything in love and fidelity to Abba, Jesus testifies to the incredible love that God has for each person, the inestimable value he sees in everyone.

Each of us, in turn, is called to adopt Jesus' way of seeing and choosing in love, to enter into his way of being, thinking and acting. (Pope Francis)

This weekend's gospel is about the apostle who doubted. The role of doubt in one's faith is a fascinating subject.
It seems to me that when our souls are troubled and doubt creeps in, perhaps it rushes in, the best thing we can do is to act as if we believe. As the Pope suggests we adopt Jesus' way of seeing and choosing in love, to enter into his way of being, thinking and acting.
When we act as Jesus acted we may well find the path through our doubts and into a transformational relationship with Jesus.
This personal encounter with the risen Christ is more powerful than any banana smoothie version of faith could ever be and it is the type of faith that will survive long or short periods of doubt.