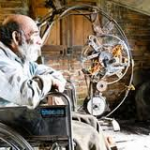 I was reading a book last month where the author Brennen Manning argued that "everything is grace."
I then stumbled upon this 10-minute  video (mostly in subtitles) that details the story about a man named Will Agustin, and it details the story of his dream- to build a helicopter.
As you may have guessed the tale is about more than the efforts of an old stooped over man. It challenges us to think about our own lives and raises some questions for contemplation.
How do we measure success in our over-heated world of achievement? What does it mean to be persistent with our vision when others, even our own family, think we are 'crazy'? Do we have the ability to see the incredible in everything?
I am not sure the video answers these questions, but we get a glimpse of a man who in his own way is an artist of life.
A quote from Karma Tube's description of  Will Agustin:
Those who can see into the soul of the artist have no doubts – or perhaps they simply have a keener understanding of what it means to fly.
A film by Tyler Bastian, Trevor Hill and Tim Skousen.
Video from KarmaTube