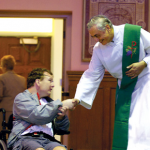 On this Easter Sunday I am reflecting on life, death and new life.
It has been a busy and  hectic week. In the church business this is the big one. It begins with Holy Thursday, Good Friday, which included a powerful evening celebration of the Way of the Cross with the Good Thief at the Dismas Fellowship, and then last night the Easter Vigil.
What made this Holy Week different for me this year were the experiences of life, death and new life.
My good friend and mentor Deacon Bert Cambre was buried on Wednesday. We celebrated his life. Deacon Bert was a man who lived life with passion. He had a commitment to those on the margins of society. He changed the direction of my life and helped create the Friends of Dismas. I admired his faith and marveled at the strength of his convictions. Bert was not a man who worried about burning a few bridges if he felt we were falling short of our calling as followers of the Way of Christ.
I was told that in his last days, as he suffered, he held the Cross close to him knowing that Jesus shared in his suffering. Bert had an unwavering faith in life everlasting so how fitting it was that he died during this the holiest of weeks.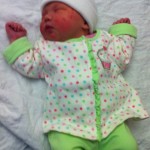 Then on Saturday a new life was welcomed into our family as my nephew John and his wife Lianne, delivered their daughter Abbey Rose into the world. Abbey's story is yet to be written. She is a symbol of what is possible. Little Abbey has been given one of life's greatest gifts already. This is the gift of family to care for her. John and Lianne are surrounded by loving people on all sides and they are special young parents in their own right.
The following quotation is from one of my favorite theologians, Hans Urs von Balthasar, and from what I know about Lianne, this captures the feelings of mother and daughter during those first moments of life:
[Our] first experience after birth is the face of love of our mothers, where the I encounters for the first time the Thou, and the Thou smiles in a relationship of love and sustenance.
It also seems to capture what Deacon Bert must have experienced after his new birth into everlasting life as he was welcomed into the arms of Jesus.
Easter is truly a time of  life, death and new life.