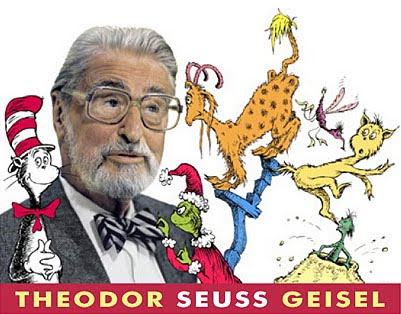 One of my childhood memories is reading the Cat in the Hat –over and over again.
I was always amazed at how the Cat could take the disaster he had created, which he seemed to enjoy making, and manage to get everything back in shape for the arrival home of the kid's mother.
Born as Theodor Seuss Geisel (1904 – 1991), Dr. Seuss was best-known for his classic children's books under his pen name. Among his most popular books includes "The Cat in the Hat", "How the Grinch Stole Christmas", "Green Eggs and Ham" and "One Fish Two Fish Red Fish Blue Fish".
It turns out that Dr. Seuss was quite the philosopher. Here are just a few words of wisdom from the Doctor:
You can get help from teachers, but you are going to have to learn a lot by yourself, sitting alone in a room.– Dr. Seuss

I like nonsense, it wakes up the brain cells. Fantasy is a necessary ingredient in living, It's a way of looking at life through the wrong end of a telescope. Which is what I do, And that enables you to laugh at life's realities.– Dr. Seuss

How did it get so late so soon? Its night before its afternoon. December is here before its June. My goodness how the time has flewn. How did it get so late so soon?"– Dr. Seuss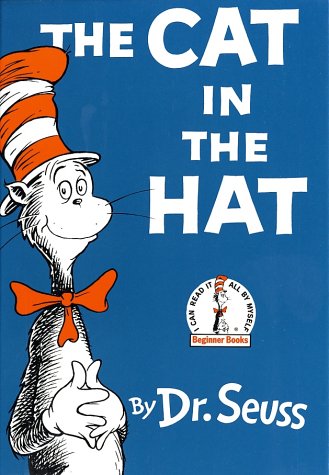 The Cat in the Hat was the first book published by Dr. Seuss in 1957. According to Wikipedia, "Dr. Seuss' publisher supplied him with a list of 400 words, ones that the publisher thought children would be learning in school. His publisher told him to cut the list in half and to try and write an interesting enough book for children. Nine months later Dr. Seuss finished The Cat In The Hat, which used 223 words that appeared on the list plus 13 words that did not.
In an interview he gave  in 1981, Dr. Seuss claimed the that the title for the book came from his desire to have the title rhyme and the first two suitable rhyming words that he could find from the list were "cat" and "hat".
If you have a moment to spare and want to go back 50+ years and re-live the adventures of the Cat-in-the-Hat,Sally, her brother and the worry-wart fish of the house, then click on the video below.
Just so you know we are not in the 50's anymore this is a RAP version of the entire story. Who knew this little book with only 223 different words would last so long?