Here is a homily from my friend Deacon Rob Kinghorn which I am sure was delivered with great passion for the weekend of the 6th Sunday of Ordinary time. The gospel reading is from Matthew's version of the Sermon on the Mount which many itinerant preachers consider to be the greatest sermon ever told.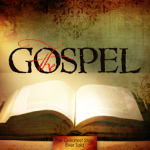 In last week's homily, Father talked of how we are the light of the world, the salt of the earth. What a wonderful compliment that Jesus gave to all of us. Well, what do I get this week? The gospel today says, "Don't do this, don't do that, don't do the next thing. In fact, don't even THINK of doing this, that, or the next thing."
Well, as I often do I want to put this gospel reading into context so you understand what was happening in the life of Jesus at the time. It might not make it any easier to live, but at least you will see the intent of Jesus. Jesus had called his disciples and then started to prepare them for the work they had to do. In the Sermon on the Mount he gave his disciples an overview of what they were called to be in this world. So this reading today is taken from the Sermon on the Mount and is part of the teaching of Jesus where he tells his disciples, "This is how you are to go out into the world. This is how your life, and mine, will be different from what you have ever heard before."
And he starts with something that must have blown the minds of the disciples. He said, "I have not come to abolish the law, but to fulfill it." He is saying that it is not good enough to just obey the Jewish law. Imagine that! All their lives the disciples had been trying hard to live up to the Jewish Laws and now Jesus says this. Even worse, all through the lesson Jesus kept saying, "You have heard it said … but I say." This is getting scary. It's like I stood here and said, "You know the pope said this … but I say …" The e-mails would be flying down to the Cardinal tomorrow, and poor Fr. Macbeth would have a heart attack.
So what was Jesus saying? All the things that Jesus was saying in this gospel said you have to lay down your life for one another. And you cannot write rules and laws that can possible capture this, because you will always, always be asked to go beyond. He said it is not a matter of your actions, but does your heart reverence the other person and see them loved by God; see God within them? All the examples he gives are pulling us back to this one question, "Are you willing to go beyond?"
I have a friend named Dion Oxford who writes articles in various sites on the internet. His articles are always challenging because he shares his own struggle to truly live the gospel message in view of the fact that he lives in a nice house with a comfortable salary, and yet every day he is struggling to help homeless men and women who have merely the barest necessities of life.
Pages: 1 2