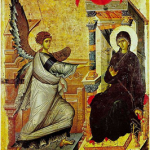 I admire people who understand art. It is not a gift I have been given. I enjoy art, especially art that tells a story which is one reason I favour Icons.
Marian art has a long history within the Christian community. It dates back to the catacombs where the earliest followers of the Christ hid from the Romans.
I have a confession of sorts to make about Christian art in general and Marian portraits in particular. For me most of the portraits of Our Lady fail to capture the true story of who Mary was and how she lived. We have been conditioned to see Mary  as a 20 something woman who dressed in beautifully coloured robes with perfect white skin.
In reality she was a peasant middle eastern girl of Jewish heritage. She was not wealthy enough to afford the  "designer" clothes of her day. Her life would have been full of struggles and challenges most of us modern folks would find unbearable.
Iconography does, however ,tell a story. Below are a few of these pictures that might help us reflect on the story of the Annunciation.
(Click here for one interpretation on the Iconography of the Annunciation.)