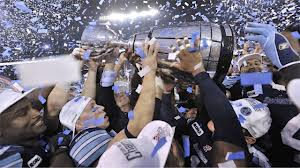 Please excuse me if I delve into a personal reflection on the occasion of the Grey Cup win of the Toronto Argonauts.
For visitors from different parts of the globe, the Grey Cup is the Canadian equivalent of the NFL Super Bowl played for less money perhaps but no less honour.
While I may be a 'lapsed' Argo fan these past few years my affection for the 'double blue' runs deep. Some of my best memories are sitting in the stands of Exhibition Stadium with my brothers cheering on our team. My main job was  to protect my younger siblings  from brawls  that would usually break out towards the end of the Hamilton games and  the  flying empty (always empty) bottles of Crown Royal.
There are memories of the Grey Cup win by the Argos in 1983. This was the 1st time they had won the Cup in my lifetime, and I was 29 years old at the time.
Then my son became a big fan, and I mean big, so we started going to the games together. We would arrive early to watch the warm-ups and eat the free chicken wieners in the end zone, and we would be the last to leave.
We ventured to Hamilton for our first Grey Cup game in 1996 for what became known as the Snow Bowl. Doug Flutie and the Argos pulled off an exciting win. Despite the blizzard, the teams seem to score on every series.
Thanks for the memories' guys and congratulations on winning the 100th Grey Cup.
If tradition holds true to form I may not be around for your next win in 2041 but I sure enjoyed this one.
Here are some clips from the Snow Bowl one of those great days you always remember especially because you had a special person to remember it with!
This post is for Chris the Argos #1 Fan!
Below are some clips from the Snow Bowl. Really Canadain Football is a  game that should be played outside don't you think.
Argooooooooooooooooooooooooooooooooooossssssssss
We got off to a slow start:


I may have been in the washroom for this one:
Now this is more like it!!