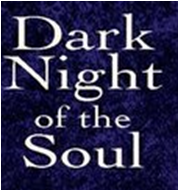 Death and grief are central themes in this week's gospel story about the raising of Lazarus.
If we have lived to a certain age, and this age differs for all of us, we will have experienced the death of a loved one. In the scene from the Gospel of John movie you can feel the pain and suffering in Mary as she grieves for her dead brother.
The clip below is from a podcast of a talk Father Ronald Rolheiser O.M.I. gave  at the Saint Thomas More Chapel and Center at Yale University in October 2009. The title of his talk is: Dark Nights and Doubt within our Faith: Understanding the Meaning and the Invitation of our Faith Struggles .
The death of someone close to us is often an occasion where the survivors experience a Dark Night of the Soul.

In this podcast segment Fr. Rolheiser references  Henri Nouwen's reaction to the death of Henri's mother. Nouwen wrote about this in his book- In Memorium.

One reader of the book offered the following reflection:
"This book helped me through the darkest days after the death of my mother. I thought, I was prepared for her death and being without her. How surprised I was to feel such a deep sense of loss and longing. I thought I was going crazy. After reading the author's reaction to his mother's death and how one grieves, I realized with a thankful heart that I was not crazy. I began to start to heal my broken heart."
Take a few minutes to listen to this reflection from Rolheiser as it can help us prepare for the Dark Night of the Soul as experienced by Jesus and Mary as they wept for Lazarus.
For the complete Podcast please click here and scroll down to October 2, 2009.