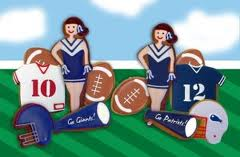 I find myself in a housed divided as we approach the Super Bowl. Both of my kids are fans of Eli and the Giants. My wife has joined me,out of pity really, rooting for Tom Brady  and the New England Patriots.
I have a bad feeling about this. In preparation for watching the game we went out an bought Ginerbread men- one was Eli Manning the other Tom Brady. When we arrived home and opened the box what did I find? Tom Brady's head had fallen off. I suspect my daughter may have had a hand in this but i can not prove it.
All in all it is a bad omen for team Tom. But not to fear I have faith and I am confident Coach Bill Belichick has been spying on Eli all week so we are good to go!
Patriots by 3!